Which Option Best Describes You?
We'll start you on the path toward the appropriate offering. We invite you to experience these courses and evaluate if they may be a fit for your workplace or classroom by requesting a trial. Theses courses are adapted for online learning platforms, ready to meet your Equity, Diversity and Inclusion needs.
Watch 2-min video: About The Course
In honour of the Residential School Survivors and on the heels of the Truth and Reconciliation Commission's 94 Calls to Action, Reconciliation Education is the foremost educational tool for corporate, community, and classroom anti-racist training in providing the basic foundational 1:0:1 on reconciliation with authentic Indigenous voices.
2.5 to 3 hours. 10 interactive modules. Designed to educate all Canadians.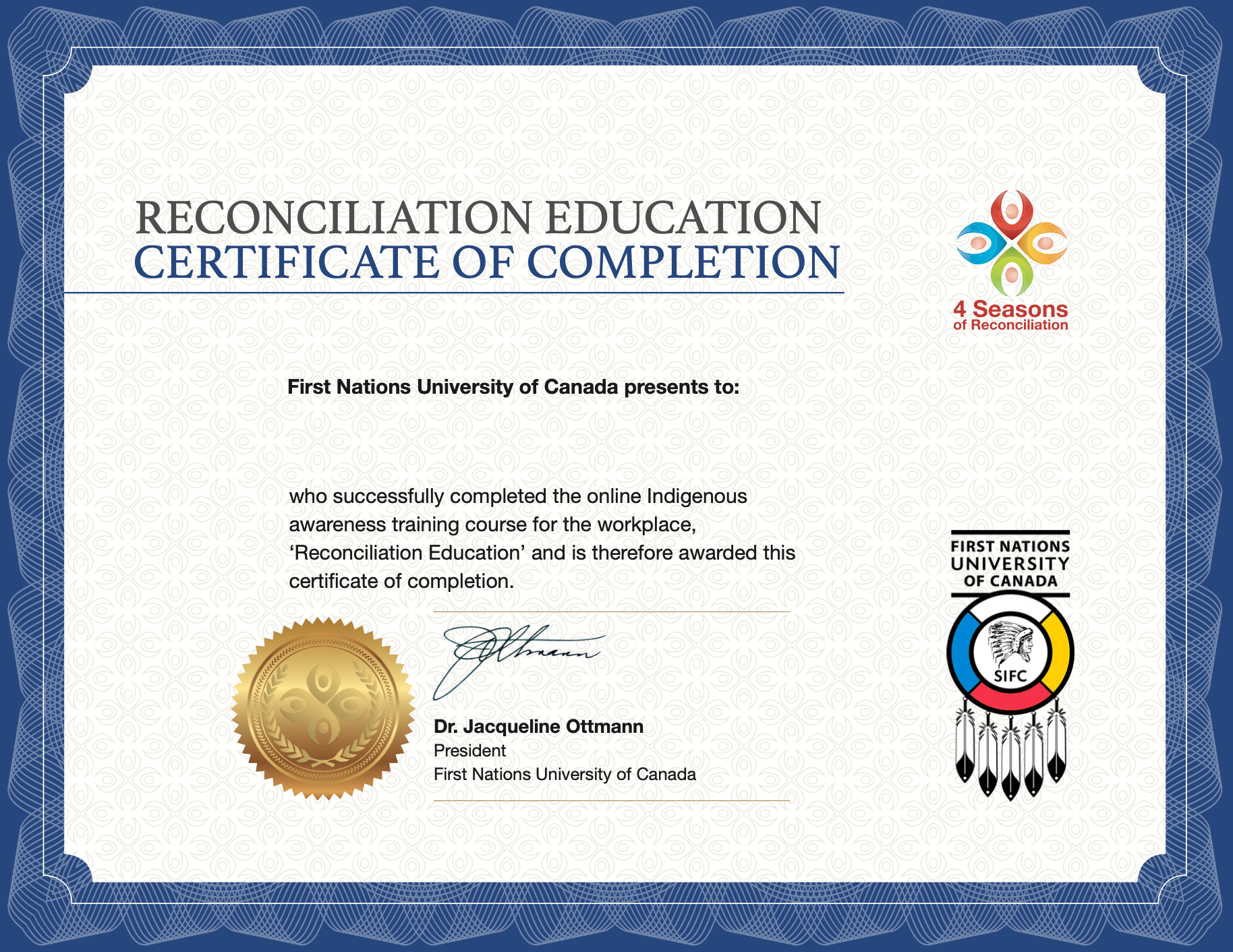 Why Choose Reconciliation Education?
Whether you're a company looking to give your employees access to essential professional development certification or a school seeking to commit to TRC's CTA #62 or #92, with Reconciliation Education, you will find the online course you need to start you off on your learning journey.
In addition to the benefits a Reconciliation Education course brings to your organization, you can take pride in the fact that 10% of all proceeds are donated to First Nations University of Canada scholarships.
Our courses are currently in use in 10 provinces in the education, Indigenous Nations, government, banking, charitable, religion, justice, policing and community sectors.
With award-winning films, we make education interactive and engaging: learn Indigenous history and culture through a mix of media, including films, slideshows, first-person interviews, and quizzes.
Providing the foundational 1:0:1 on reconciliation, each course is built upon the same core essentials: such as the colonial lens of history, anti-racism, Residential Schools, UNDRIP, the TRC and Indigenous innovations and contributions.
Our courses are available in French and English.
For educators, inspiring and engaging courses are available for secondary, and post-secondary students.
Localized content and sector-specific customizations for your community or sector are available.
Certificates provided by First Nations University of Canada upon completion.
Film Awards
Reconciliation Educations' courses are based on a series of award-winning films. Some of the honors include:





Interested in viewing the films:
4 films in the reconciliation film series
Contact us to request a complimentary film pass or to request pricing for organizations. Please note: all these films are free to view as part of the reconciliation course. All 4 films are 20-30 minutes and 2 films are envisioned and directed by the Elders Circle of First Nations University of Canada.